Kenwood NX-5700 / 5800 / 5900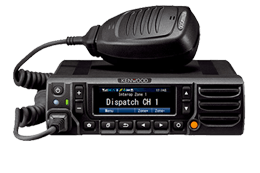 VHF / UHF FM Digital Transceiver
The NX-5000 Series offers unsurpassed interoperability for a wide variety of users as it supports three digital CAIs — NXDN, DMR and P25 (Phase 1 & 2) — plus FM analog in a single radio. Best of all, a desired CAI can be selected at will, giving you the freedom to migrate at your own pace — whether you are intent on going fully digital, undecided about which digital system to pick, or just wanting to maintain both digital and analog for a while. An NX-5000 radio can simultaneously support two digital protocols plus analog, offering the following combinations: FM/DMR/ NXDN, FM/NXDN/P25, and FM/DMR/P25.
Kenwood TK-5710 / 5810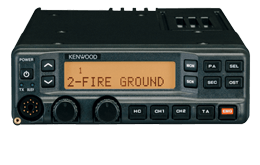 VHF & UHF FM Conventional & P25 Digital Mobile Radios
The TK-5710/5810 premium high specification heavy-duty offers conventional FM and conventional P25 digital operation for present and future interoperability requirements for law enforcement, fire and emergency services. Built on Kenwood's advanced 90-Series design, the TK-5710/5810 is available in dash mount, single head and dual head remote mount control with choice of 12 or 14-character high resolution backlit dot matrix LCD. The controls and customizable PF keys provide an intuitive user interface simplifying P25 and FM operation for all user types. The P25 trunked option permits operation on local, regional and statewide Project 25 compliant networked systems. The extra large capacity and Zone programming facilitate departmental, inter-agency interoperability, mutual aid and tactical channel organization. Encryption /ANI control permits basic to high level voice security and dispatch functions satisfying homeland security and confidentiality requirements. Standardized DES-OFB and AES encryption options permits advanced secure interoperable voice communications. The DB-25 and 15-pin accessory connectors permit interface with data modems, headset/intercom systems, police motorcycle headset/PTT systems for vehicular installations or remote control termination panels for base/control station fixed installations.
Kenwood TK-5720 / 5820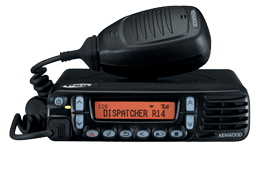 VHF / UHF FM & P25 Digital Mobile Radio
Kenwood's new VHF and UHF P25 Portable Radios feature a compact, rugged design rich with capability and performance. The new TK-5220/5320 portables join Kenwood's higher tier P25 radio models to offer an expanded group of P25 solutions for all levels of public safety and service agencies. These new mid-tier P25 models operate in FM Analog and P25 Digital modes and combine AMBE + 2 Enhanced Full Rate Vocoder technology along with Kenwood's decades of audio heritage to deliver unmatched audio performance in a two-way radio.
Kenwood TK-5910

700/800 MHz FM & P25 Digital Mobile Radio
Kenwood's new 700/800 MHz radios fully expand our P25 Digital Public Safety Radio lineup. The TK-5410 portable and TK-5910 mobile were designed expressly for public safety agencies deploying 700 / 800 MHz P25 radio systems or expanding existing 800 MHz systems. Built on Kenwood's field-proven TK-5×10 hardware platform with enhanced micro processing, these rugged MIL-SPEC / IP-rated units cover the entire Public Safety 700 MHz and 800 MHz voice bands including NPSPAC channels.